Please submit an image of your vehicle that you would like to display. Include all
pertinent info (i.e. your name, make, model, year, modifications, etc.) Thank you!
Contact the Public Information Officer for more information on submissions.

Owner: Mitchell Lanyon
1982 Jeep Cherokee Laredo
360, Edlebrock intake & 4BBL, TF727, NP208


Owner: Kevin Lanyon
1965 Jeep CJ5 Tuxedo
Chevy 350, 4" lift, loaded for WFO at Rubicon!

Owner: Woody King

Jeep CJ5

401, loaded for bear!

Owner: Woody King
1972 Chevy Blazer


350, 4.10 gears, loaded for Rescue

Owner: Barry Drotar

1950 Willys

4 Cylinder 'L' head, Warn Overdrive, 3-Speed T-90, 5:38 Gearing, Converted to 12 volt and Installed Mallory Unilite Ignition and Electric Fuel Pump. Alternator replaced Generator. Original in most respects, seats, steering and some gauges.



Owner: Al Drotar
1967 Jeep Gladiator J200


1977 Jeep Wagoneer

401, 4bbl, T400, BW QuadraTrac, 5" hybrid Rusty's-Rancho lift, K&N air filter, 32" Goodyear MTRs. Click picture for more info.



Owner: Lu Nettleton
Pilot: Krista Boardman

1976 Jeep Wagoneer

401, T400, BW QuadraTrac, Jacob's Omni ignition system, K&N air filter, Holley 650 CFM, Flowmasters, Rancho 4000, SOA lift. Click picture for more info.

1988 Jeep Grand Wagoneer

360, 2bbl, TF727, NP208, 3.73 gears, 4" Black Diamond lift, 33 gallon Aero fuel tank, K&N air filter, Rear Lock-Right, 33" Radial Baja XTs. Click picture for more info.



Owner: Jim Price
2002 Jeep TJ Sport


4.0 litre HO, 4" lift, wide flares

Owner: Jamie Tewell
1991 Jeep Wrangler


Cherokee 4.0L H.O. and overdrive automatic transmission with stock NP231 transfer case. The engine is fuel injected and the tranny is computer controlled. It has a spring-over with the stock springs and longer shackles so it's got about 5"-6" of lift with 33x12.50 all terrains. Custom hard half cab built by my good ole' dad. It has Peterbilt semi gauges in the dash and a funny little cellular antennae converted to radio that Mike gets a kick out of. It has 4.10 gearing in the pumkins and a lock right locker in the rear. It has a removable, custom fabricated, leverage apparatus(a foot long piece of pipe) to engage the four wheel drive system.

1966 Ford Bronco
Chevy guys, cry your hearts out

Owner: Judy Dyster
1981 Jeep Cherokee Laredo

360, TF727, NP208, 4" Superlift, 33" BFGs

Owner: Mike & Judy Dyster
1968 F250 HiBoy
Owner: Clark Free
1996 Jeep Grand Cherokee

Mopar 318, 3" lift, 31s, Flowmaster

Owner: Doug Ramsey
CJ7

Owner: Rollin Wilber

1980 CJ5

360 V8, D44 front & AMC 20 rear (both locked with Detroit E-Z Lockers) out of a waggie, Holley Truck Avenger 4BBL, on board air system, ARG steering box, 5000 lb winch, KC's out front, under hood and under jeep lighting, duel batteries, TF727 Tranny, Atlas 3.8 Transfer case, 33" Swampers, Seats out of a toyota car, custom dash, 6-point cage, full rear cargo area tool box, 5 gal water and 5 gal gas cans. CB, custom wired with under hood fuse block. 4 core radiator. 3 inch pipe nerf bars with storage boxes built in. 4 point strapping with 1 7/8 inch clevis's custom bumpers and skid-plates. Eugene on the hood. Rated #1 POS.

(Note: these specs are subject to change on a regular basis depending on how PO'd Rollin gets at his newest modification. If you want to know what's on his Jeep this week, please write him yourself.)





Owner: Clint Cressler
BROMANDO!
Hybrid Commando/Full Size Bronco
The best of Ford and Jeep!

Owner: John Vestal

2000 Jeep TJ Sahara
4.0 Litre HO, 4" lift, OX lockers and 33" BFGs
***4X4 OBITUARY***
On March 29th, 2002, Member Amanda Boody's faithful Wagoneer, Rusty, gave its life while preserving hers. On the fateful afternoon, Amanda and Wagoneer missed a curve on a gravel road and plunged 25 feet down an embankment to end up in a creek. Amanda was not hurt in the accident (she was wearing her seatbelt and surrounded by a Full Size Jeep). However, Rusty is toast. Despite the nosedive into a creek, front clip twisted skywards, and multiple other damages, Rusty started right up and drove up the embankment to the awaiting tow truck. Amanda and family are currently looking for another Full Size Jeep. The Club sends it's best wishes to Amanda and looks forward to a new 4-wheel drive member.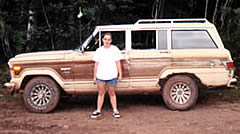 Owner: Amanda (Jeep Bender) Boody
Deceased: 81 Jeep Wagoneer Limited "Rusty"
***R.I.P.***
360, TF727, NP219, D44 front, AMC 20 rear
Toasted 3/29/02 (may Rusty rust in peace)
Obituary Addendum:
Our Friend Rusty has been a selfless organ donor for numerous vehicles in SW Colorado as well as Jeeps in Texas and Washington State. His carcass resides at Jubilee Full Size Jeep Stable and Morgue in Mancos. Please contact the Webmistress if you find yourself in need of AMC Jeep organs. Rusty's body has been cataloged in a most scientific fashion and the FSJ coroners at the Jeep Farm/Morgue can tell you if a viable organ match is available.
| | |
| --- | --- |
| Donor Organs | Donor Recipient |
| Transmission, chrome Wagoneer emblem, shift linkage, cargo area carpet | Flint's 88 GW |
| Vacuum chamber, fuel pump, driver's side front door, dash trim, glove box lock, front turn signal lamps, plastic floor console, instrument cluster, rear view mirror | Flint and Krista's 76 Cherokee |
| Front hubs and brake assembly, AMC 20 rear, alternator, fan, distributor, starter | Rollin's 80 CJ5 |
| Wheels | Amanda's 82 Cherokee |
| Vacuum booster, hood rest pins, front drive shaft | Judy's 81 Cherokee |
| Power steering pump & steering box, dash knobs, gas tank fuel filler tubes, coil, tranny mount components, radiator overflow jug, left front stub shaft | Krista's 77 Wagoneer |
| Passenger door latch assembly, tailgate window switch and defogger switch, rear seat belts | Mitch's 82 Cherokee |
| Carburator | Quincy's Bronco |
| Transfer case | 83 J10 in Washington State |
| Horn button | 82 J10 in Texas |
| driver's door latch assembly (reserved) | GW in California |
| Front seats and inner door panels, cargo area cover brackets (reserved) | Lee's J10 in Georgia |
| Front seats and rear cargo area (if you want them you are responsible for removal of cat hair) =8^) | Grendel's Summer home (AKA Jeep Kitty Condo) |